Pleated blinds
Sliding systems
Hinged door – Swing door
Motorised roller screen
"State-of-the-art insect protection with advanced technology: the Neher pleated blind combines clever functionality and elegance!"
Discover our space-saving insect screen for doors with the Neher pleated blind. In addition to its stylish design, it offers a practical storage option when it is not needed. Thanks to the special shape of the mesh, it can be folded up. Benefit from an insect-free environment at all times without having to do without fresh air. The Neher pleated blind for doors – the perfect mix of functionality and style.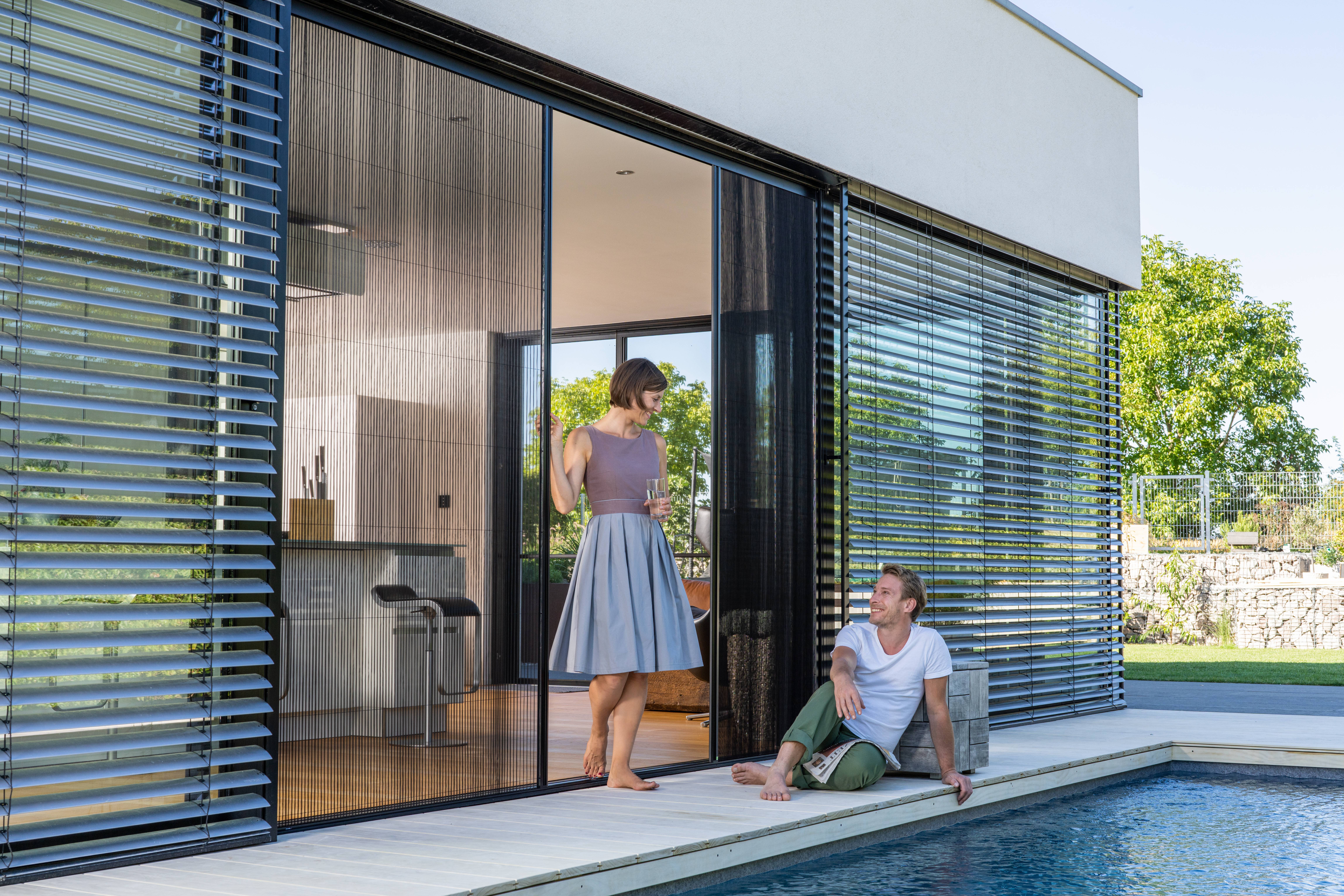 How does the Neher pleated fly screen work?
Installation: The Neher pleated insect screen is cut precisely to the size and shape of your door. Depending on the installation situation and preference, it can either be attached using a robust screw or a drill-free adhesive tape.
Function: The pleated blind contains a light and air-permeable fly screen mesh that can be pulled out and folded by sliding it sideways. This mesh provides effective protection against insects and is very robust. The pleated blind also has a magnetic or brush closure.
Handling: The Neher pleated insect screen is very convenient to use. It can be conveniently pulled out using the handle bar and folded up when not in use. Maintenance is easy – light cleaning with a damp cloth is usually sufficient.
How user-friendly is a pleated blind for wheelchair users?
The pleated blind is very user-friendly for wheelchair users as it can be operated at any height using the handle bar. Thanks to the extremely flat bottom track with a height of only 8 mm, it can be easily negotiated with a wheelchair or rollator.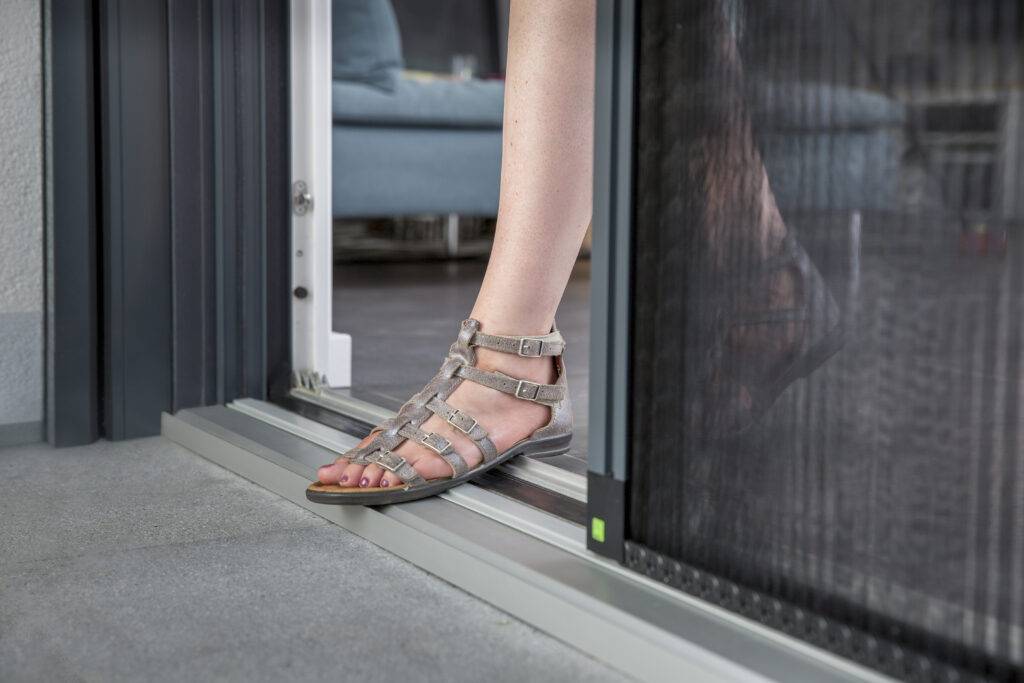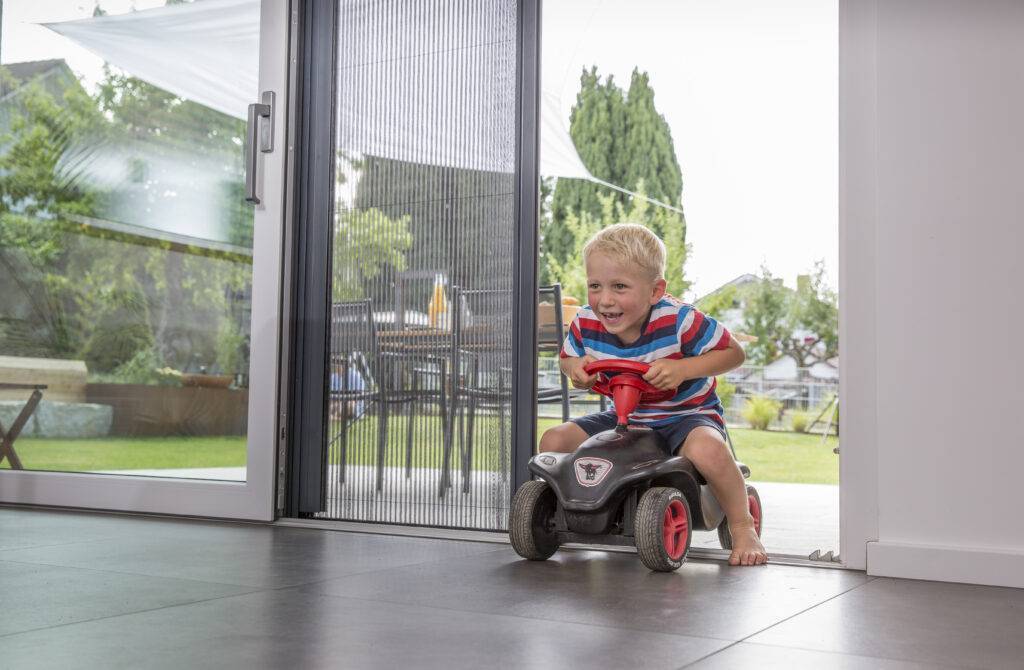 When do you use a pleated fly screen?
The Neher pleated fly screen is a suitable solution for most doors. It requires at least 22 mm of space between the existing door and any roller shutters. It is particularly suitable for use on lift and slide doors (HST). The pleated blind does not require any additional swivelling area and can simply be pushed together when not in use.
With a continuous handle strip, the pleated blind is easy for children to operate. The pleated fabric itself is robust and hard-wearing. When extended, it offers a good view.
There are no items to show
Plissee Downloads