Fly screens from the number 1 market leader
On this page you will find the most important information about fly screens from Neher.
What different types of fly screens does Neher offer?
Neher Insect Screen offers a wide range of fly screen solutions to meet the different needs and preferences of customers. Here are the different types you offer:
Fly screen stenter frames: These are fixed frames that are perfect for almost all window types. They are easy to attach and detach, which allows for flexible use.
Roller fly screen for windows: This option offers user-friendly protection that can be rolled up and down as required. It is ideal for rooms where insect protection is not required permanently.
Hinged frame fly screen: A hinged frame is the ideal solution for windows that you want to open frequently, for example to water flowers or ventilate. Thanks to its practical design, the hinged frame can be opened effortlessly and has an automatic closing function that closes the window safely and conveniently once you have passed through. It thus combines convenience with reliable protection against insects.
Swing flyscreen windows: These windows can be opened and closed on both sides and are therefore particularly practical when frequent access is required.
Pleated fly screen for doors: The pleated fly screen is a stylish and space-saving solution for doors that can be folded up like a fan and is easy to operate.
Sliding fly screen system: Ideal for large door openings, such as patio doors, these systems offer effective protection that can be easily moved.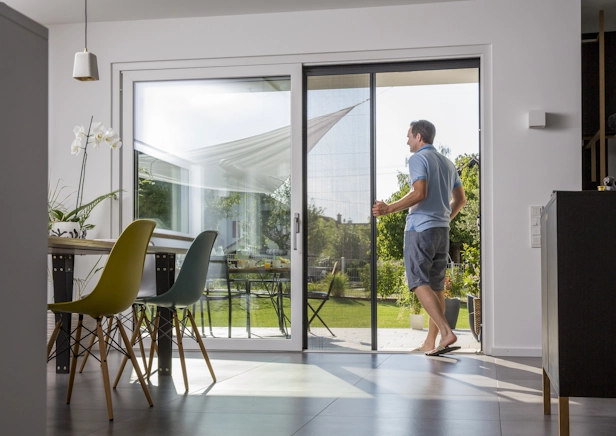 Swing door fly screens: They are particularly suitable for balcony and patio doors and can be installed to open inwards or outwards. They make it easy to walk through without having to remove the protection.
Swing flyscreen door: These doors swing in both directions and close automatically, ideal for busy passageways.
Electric fly screen roller blind: A modern, convenient solution for insect protection that can be opened and closed at the touch of a button.
Fly screen roof window roller blind: Specially designed for roof windows, these roller blinds offer protection against insects without impairing the function of the window.
Fly screen skylight roller blind two in one: This variant combines insect protection and blackout in one product and is particularly suitable for bedrooms under the roof.
Fly screen light well covers: With the LiSA, RESi, ELSA and TERRESA models, Neher also offers solutions for light wells that provide protection against insects, leaves and dirt.